ADB Sub-regional Conference on Promoting Innovations in Wastewater Management in Asia and the Pacific
From 29 to 31 January 2013, JSC participated at ADB's sub-regional conference which marked the formal launch of RETA 8060: 'Promoting Innovations in Wastewater Management in Asia and the Pacific'. In accordance with ADB's Water Policy, this regional capacity development technical assistance (TA) will support the development of wastewater investment projects through knowledge management, examination of technology options, incentives and financing mechanisms, and conduct of knowledge exchange and capacity development activities.
Participants at the conference included government executives, wastewater industry practitioners, and representatives from the private sector from the following countries: Philippines, Viet Nam, Indonesia, Bangladesh, India, Sri Lanka, Mongolia and Uzbekistan.
In the session entitled 'MAKING SANITATION AFFORDABLE: Different Ways to Finance Sanitation and Wastewater Management' held on 29 January, JSC made a presentation on the 'Transparent and Efficient Use of Government Subsidy for Sanitation: The Case of Japan', highlighting the importance of subsidies to increase nationwide sanitation coverage.
In addition to JSC's participation, the city of Kitakyushu – a member of the Water and Environment Solution Hub (WES Hub) – also attended the conference and introduced how Kitakyushu overcame the water pollution that occured in the 1960s.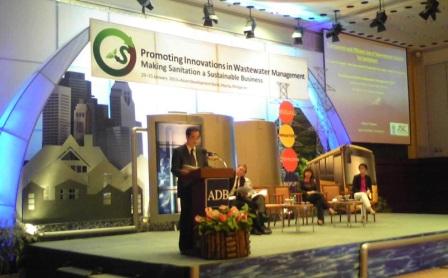 Above:

JSC presentation at ADB's Sub-regional Conference on
Promoting Innovations in Wastewater Management in Asia and the Pacific
Conference program
Conference website