Introducing Eco-friendly Toilets in India: Project Outline
It is said that there is not sufficient infrastructure in India to treat the amount of wastewater generated throughout the country. As a result, rivers and groundwater are polluted from untreated wastewater and human waste. Looking at the situation with on-site wastewater treatment systems, septic tanks have limited efficiency for treating the wastewater from toilets. Further to this problem, sludge is inappropriately managed.
To tackle this situation, the Japan Environmental Sanitation Center (JESC; a member organization of JSC) has engaged in a joint venture project supported by the Japan International Cooperation Agency (JICA), targeting the public toilets of two cities in India – Muzaffarnagar City and Varanasi City in Uttar Pradesh State – and conducted in collaboration with the related local governments and NGOs.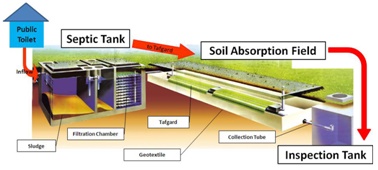 Above:

Schematic of the soil absorption field coupled with a septic tank

This project, running until 2018, aims at improving the treatment performance of septic tanks by adding a soil absorption field to these facilities, which receives and further treats the septic tank effluent. In addition to improving wastewater treatment, this project also aims at developing business opportunities in India by introducing technologies for on-site treatment from Japan that can contribute to sanitation improvement in India.