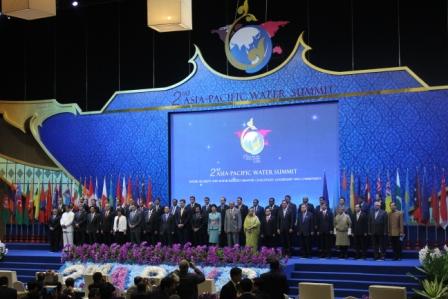 JSC Technical Workshop at
2nd Asia-Pacific Water Summit
"What is Needed to Achieve Sustainable Sanitation Management?"
Following a series of workshops on sanitation that JSC organized since its foundation, JSC held on 17 May a technical workshop entitled "What is needed to achieve sustainable sanitation management?" at the 2nd Asia-Pacific Water Summit (APWS) in Chiang Mai, Thailand (16 to 20 May 2013).
The Technical Workshops (TWs) of the 2nd APWS aimed at facilitating interaction among experts concerned with the science, policy, and management of different water body types and were divided into seven (7) sub-themes under the main theme "Water Security and Water Related Disaster Challenges: Leadership and Commitment".
Planned in the sub-theme led by UN-Habitat and PUB focusing on Urban Water Security, the purpose of JSC's workshop was to address all the necessary aspects to consider for the achievement of sustainable sanitation management. These include: sanitation in urban planning; sanitation policies; legal and institutional frameworks; financing and subsidy mechanisms; technology selection, combination and improvement planning, O&M and human resource development, public hygiene and sanitation awareness.
The workshop, divided in two sessions with two panel discussions and a total of eight presentations, highlighted the need for proper sludge treatment, national policies for sanitation, enhanced capacity of local authorities and knowledge sharing. To combat sanitation management issues, it was also noted that political commitment, increases in national budgets, innovative and suitably selection of technologies as well as financing mechanisms for wastewater management are required.
In addition, JSC took part in the exhibition organized during the summit which enabled networking activities and information exchange with different stakeholders of the Asia-Pacific region.
Below: First panel discussion at JSC's Technical Workshop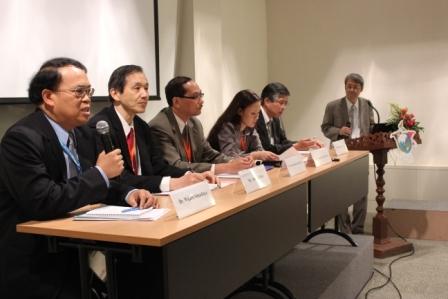 Below: Second panel discussion of the workshop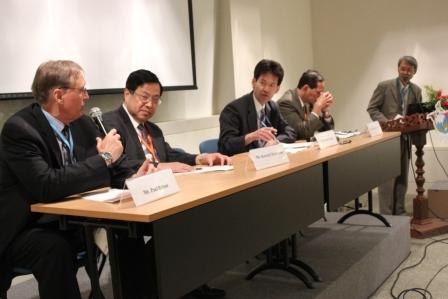 Below: JSC's Booth at the exhibition of the 2nd APWS