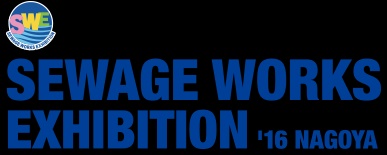 The Sewage Works Exhibition (SWE) shows the latest technology in the collection and treatment of wastewater for the public procurement of municipal wastewater projects. It covers planning, design, construction, and operation and maintenance.
The SWE is designed to appeal to decision makers from local utilities, consultants and engineering companies in Japan. The SWE is also intended to raise public awareness on the importance of clean water and how it is achieved.
Discussions and exchanges of information on water have been internationalized over the last decade. Japan hosted the World Water Forum in Kyoto in 2003 and will host the IWA World Water Congress in Tokyo in 2018. In line with this trend, JSWA has been committed to make the SWE an international event, having held in parallel to the exhibition, and for many years, international conferences & seminars.
For more information, please click here to visit our website.
Exhibition Outline
Name of the eventevent

e

"SEWAGE WORKS EXHIBITION '16 NAGOYA"

Date and time

eventsssss

July 26 (Tue.) - 29 (Fri.), 2016

eve

10:00-17:00

eventssssssss

(Except 26th: starting at 10:30, and 29th: ending at 16:00)

eventsssssssssssssssssssssssssssssssssssssssss

until 16:00 on the last day
Venue

events

Nagoya International Exhibition Hall (Portmesse Nagoya)

Organized by

eventsssssssssss

Japan Sewage Works Association (JSWA)

Exhibitors

eventssssssisssssssissssssssssssssssssssssssss

More than 300

Visitors

eventssssssssssssssssssssssssissssssssssssss

More than 100,000