MOE-MOC Joint Workshop on On-site Wastewater Treatment and Septage Management in Vietnam
While septic tanks are the main treatment system for human waste in urban areas, the Ministry of Construction (MOC) of Vietnam is now developing legislation to regulate water quality with the aim of improving environmental conditions throughout the country. For these reasons, the development of wastewater treatment facilities and the strengthening of septage management for septic tanks are highly desired countermeasures for water environment improvement.
Under these circumstances and to promote information exchange and knowledge diffusion, Vietnam's MOC demanded the Ministry of the Environment (MOE) in Japan to organize a workshop on on-site wastewater treatment and septage management. Entrusted by MOE for this work, JSC organized this workshop held in Hanoi on 22 March 2013 and appointed Vietnamese and Japanese speakers from academia, wastewater utilities, the private sector, as well as governmental organizations. In addition, two JSC representatives participated as speakers and introduced decentralized wastewater treatment technologies and the essential aspects to consider for septage management.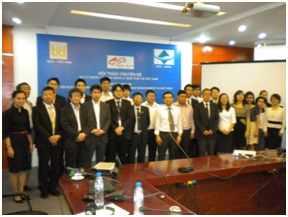 Above:

Speakers and participants
of the workshop
Program of the conference