Workshop on Urban Fecal Sludge Management – Problems & Solutions
(co-organized by JSC)
On 23 February 2012, the Hanoi University of Civil Engineering (HUCE) - in collaboration with JSC, the Hanoi Urban Environmental Company (URENCO), and the Bill & Melinda Gates Foundation - organized a workshop on urban fecal sludge management held at the Institute of Environmental Science and Engineering (IESE) at HUCE.
This event was attended by about forty participants, including members and sanitation experts from the Ministry of Construction of Vietnam, academia (from IESE and the National Economics University in Hanoi), organizations involved in wastewater and sludge management (Hanoi URENCO and Hai Phong Sewerage and Drainage Company), a donor organization (GIZ), a local NGO, as well as print and electronic media journalists, in addition to JSC members and sanitation experts from Japan.
At this occasion, JSC and Japan's representatives made four presentations, focusing on the needs for septage management, the recycling and reuse of wastewater sludge, Japan's institutional and regulatory system for septage management, and the johkasou system (also called Packaged Aerated Wastewater Treatment Plant, PAWTP). The workshop provided a good opportunity for information exchange between Japan and Vietnam on the way that fecal sludge is managed in both countries. The debate that concluded the workshop enabled a constructive reflection on current sludge management issues in Vietnam.

Below:

Participants of the Workshop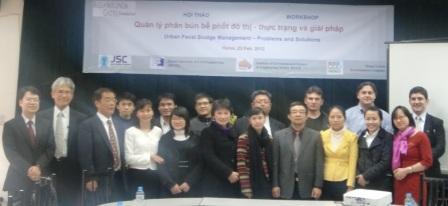 Below:

Opening Remarks from JSC Director
Program of the Workshop
JSC Presentations: